»About Hockey Made Easy
»About the Author
»Frequently Asked Questions
About the Author
A Wealth of Experience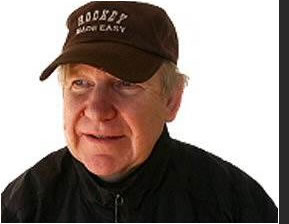 Hockey Made Easy is written by Hockey Canada award winner John Shorey, a nationally renowned Canadian hockey enthusiast with over 50 passionate years of experience at almost all levels in the game of hockey.
"Young Players Must Understand Hockey Before They Can Excel On The Ice."
- John Shorey
Click on Picture to hear John Shorey
John Shorey is a Canadian hockey author from Brockville, Ontario, with over 50 years of vast hockey experience. He is a former Junior 'A' player and scout, European professional, Junior 'B' Coach, General Manager and owner of a Junior 'B' Hockey franchise. He is presently entering his 32nd consecutive season as the President of an Ontario Junior 'B' Hockey League. He is also an expert panelist for the NHL's www.dallasstarscare.com, the www.ColoradoAvalanchecares.com and the new national www.growthegame.com websites.
His hockey career includes many achievements for outstanding play, coaching and league management. At the age of just 16, John won the Junior 'A' Rookie of the Year Award, garnering an invitation to play for the Toronto Marlboros, the top Major Junior farm Team of the Toronto Maple Leafs. Although a severely broken leg prevented his participation, he completed one year of intense rehabilitation and signed with the Brockville Braves, Junior 'A' farm team for the Chicago Black Hawks. He is also the recipient of the Hockey Canada Junior Hockey Recognition Award (2004) and Ottawa District Hockey Association Recognition Award (1995), and was inducted into the Brockville and Area Sports Hall of Fame in 2007.
He played for two seasons with the Braves and was one of the team's top scorers before playing two years of professional hockey in Italy and Holland.
Coaching In His Blood
Once retired from competitive hockey, Shorey joined the Brockville Tikis Junior 'B' Hockey Club as an Assistant Coach. Coach Shorey dedicated the next 13 years to the Junior 'B' program, serving in different capacities, including 10 years as Head Coach.
Still Passionate Today
John Shorey attends or watches at least five games per week and proudly considers himself a student of the game, constantly seeking new ways to improve the game and skill level of players of all ages.
As the author of the Hockey Made Easy Instruction Manual (now in its 9th edition), John has helped an estimated 200,000 Minor and Youth Hockey coaches, parents and players improve their performance by offering skills, strategies and systems on and off the ice.
Quick Facts about John Shorey
Over 50 years of hockey experience, as a professional player, coach, team owner and league President.
Completed Level 1, 2 and 3 of the Canadian National Coaches Certification Program.
President of the Rideau St Lawrence Junior "B" hockey league for the past 32 years and is a scout for a Canadian Junior 'A' team. 
He has developed and initiated unique hockey clinics for Beginners, Novice, Atom and PeeWee aged players (5-12) and their parents.
On June 25, 1995, John Shorey received the Recognition Award for his outstanding contribution to hockey from the Ottawa District Hockey Association.
On June 1st 2004, John Shorey received an award for his outstanding and valued contribution to Junior Hockey by Hockey Canada.
On June 15th 2007, John Shorey was inducted into the Brockville and Area Sports Hall of Fame.